Manage Notifications
Explore Cobalt notifications.
By default, you get notifications for some activities related to your organization and pentests—both through email and in the Cobalt app. If you're not receiving email notifications, see our troubleshooting tips.
View examples of activities.
Your user role determines which notifications you get.
Manage Pentest Notifications
When you collaborate on a pentest, you get notifications depending on your notification preferences.
On the pentest page, select the bell icon

, and set your preference:
Notifications on all activity, unless you've explicitly unfollowed a finding. This is the default option.
Notifications on @ mentions and findings you participate in
Mute notifications, except on findings you follow

Manage Finding Notifications
You get notifications for a finding when someone:
Assigned you to the finding.
Mentioned you in a comment.
Left a comment on the finding—if you subscribed to pentest notifications.
If you're not participating, you can subscribe to notifications for a finding.
On the pentest page, go to Findings, and select a finding.
Under Notifications, select Follow.


To unsubscribe from a thread, select Unfollow.
View All Notifications
To view notifications for all organizations you belong to, select the bell icon

in the upper-right corner. The number of unread notifications, if any, appears on the bell icon.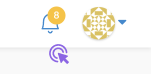 You only see recent notifications in the popover. To view all notifications, select the three-dot icon > Go to notifications page.
To mark all notifications as read, select Mark all as read.
To mark a single notification as read, select the dot icon •.
View Team Activity
To view the latest activity of your team members and pentesters, navigate to the Activity page. Both organization users and Pentest Team Members can view this page.

Troubleshoot Email Notifications
You're Not Receiving Emails from Cobalt
Do the following:
Check with your IT administrator to ensure that the cobalt.io email domain:

Isn't included in the list of blocked senders.
Doesn't trigger a Sender Policy Framework (SPF) hard rejection. This failure occurs when the recipient mail server rejects emails from IP addresses not specified in the SPF record.

Check the filters of your mailbox. Verify that the rules you've enabled don't affect emails from the cobalt.io email domain.
Verify that emails from Cobalt aren't being marked as spam or junk.
Make sure that you've confirmed your email address in Cobalt. To do that, click the link in the email invitation.
You're Receiving Emails with Delay
This may happen because your organization has enabled graylisting for emails. To remedy this, add the cobalt.io email domain to the allowlist.
Refer to the documentation of your email management system for instructions. For example, read how to configure permitted senders in Mimecast.
Last modified June.06.2023