Assets
Assets are what we pentest.
For pentests, an asset is a software component of value, such as a web application or API. Once you've created an asset, you can launch pentests for it.
Create an Asset
Best practices for creating an asset:
View and Manage Assets

On the Assets page, you can:
Note
To analyze the security posture of your assets over time and observe trends, navigate to
Cobalt Insights
.
Asset Details Page
On the asset details page, you can:
Note
Once you've defined an asset, you can launch pentests for it. You don't need to create this asset again for each new pentest. When needed, update the asset description, and attach new documents.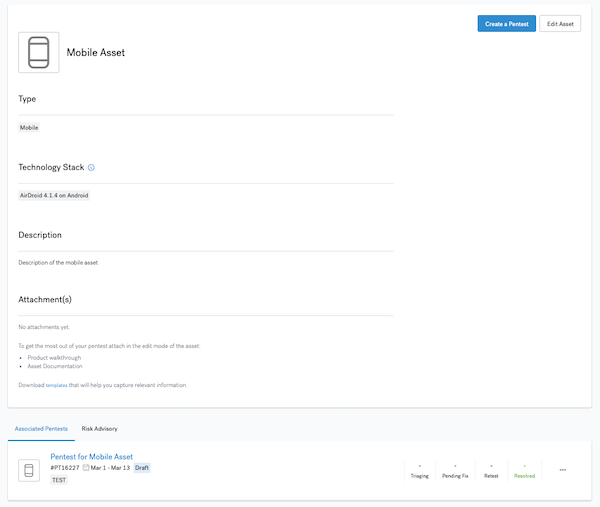 Access and Permissions
Only Organization Owners and Members can create an asset.
Pentest Team Members don't have access to the Assets page.
For more information about user permissions, see User Roles and Permissions.
Frequently Asked Questions
Can I attach two or more assets to a pentest?
No, you can only launch a pentest for a single asset.
If your asset has multiple methodologies, such as Web + API, you can choose a combined methodology. If the combination is not available, such as for Mobile + External Network, do the following:
Select one of the available asset types.
Let your CSM know so that we can select pentesters with the appropriate expertise.
I want to test two scopes. How many assets should I set up?
You can only launch a pentest for a single asset. Let's rephrase this question: how many pentests should you launch for two scopes?
For assets of multiple types, you may want to launch one or more pentests, depending on the characteristics of your software.
For example, if your asset combines a web and mobile application, you may want us to test them together, in one pentest, if:
Otherwise, you may need to set up two pentests to get more granular results. You can run multiple pentests for the same asset.
---
Learn about the asset types we support.
Preview potential vulnerabilities for your assets.
Get insights into the security posture of your assets.
Last modified May.05.2023